Shaping a Bright Future Worldwide -
Manchester Alumni
At Manchester International School, we take immense pride in our global network of accomplished alumni. Our alumni community, spanning the globe, has made remarkable strides in their higher studies, excelling in renowned universities, and contributing significantly to various fields. We are delighted to showcase their achievements and celebrate their journey as proud members of the Manchester family.
A Testament to
Our Commitment
Manchester International School's alumni are our true ambassadors, embodying our commitment to nurturing excellence. They have embarked on remarkable journeys, making their mark in the world. Many of our alumni have pursued higher education at some of the world's most esteemed institutions, furthering their quest for knowledge and personal growth.
Our passed-out students excel in a wide range of fields, including medicine, engineering, architecture, artificial intelligence, and many more. They have chosen diverse paths and have made a significant impact in their chosen domains.
Where Success
Knows No Boundaries
From Ivy League institutions in the United States to renowned European universities and prestigious Asian academies, our alumni have demonstrated an insatiable thirst for learning. They have excelled in fields such as medicine, engineering, architecture, artificial intelligence, and various other disciplines, impacting the world in diverse ways.
Their success stories inspire our current students and stand as a testament to the quality education they received at Manchester International School. Our alumni have become doctors, engineers, architects, AI researchers, entrepreneurs, and more. We couldn't be prouder of their achievements.
Our alumni don't just graduate from Manchester; they continue to stay connected with their alma mater. We maintain an active alumni network, providing opportunities for past students to give back to the school and engage with current students. They often return to share their experiences, mentor aspiring students, and support various school initiatives.
Manchester International School is not just an educational institution; it's a lifelong community. Our alumni remain a vital part of this community, and their success stories are a source of inspiration for all. As we continue to evolve and grow, our alumni play a significant role in shaping the future of our school. Their success is our success, and we celebrate every achievement with pride.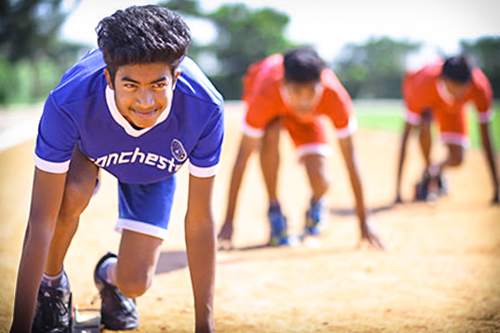 Celebrate
Your Manchester Memories
We invite our alumni to stay connected with us, share their stories, and continue to be a part of the Manchester International School family. Together, we look forward to creating a brighter and more successful future for all. We encourage our alumni to get in touch with us, share their stories, and stay engaged in our vibrant alumni network. Manchester International School is honoured to have such an accomplished alumni community, and we look forward to hearing from you.